Get Ready
We are incredibly excited to announce Angelic, a narrative multiplayer strategy RPG backed by blockchain technology with an exciting and unique decentralized ecosystem, will be available for PC, Playstation, and Xbox players in Q3 2023.
Angelic is one of the first blockchain games with sophisticated gameplay bringing you the closest AAA game experience you can find in this vertical. We already have an early stage playable demo with over 3 hours of gameplay!
What Is Angelic?
Set in a dark science fiction universe, Angelic is a compelling narrative RPG that puts the players in the driver's seat as they explore and even shape the worlds they're playing in (more on this in just a moment).
By combining the best of online gaming, RPGs, turn-based strategy, and distinctive, colorful heroes in a player-driven universe, Angelic really is the first game of its kind.
With equal emphasis on storytelling and party-based RPG elements, Angelic players are drawn into a dark and compelling science fiction setting. Mesmerizing stories unfold as players progress through a complex universe where motivations may not always be clear, and where allies can be the key to success…or disaster.
Angelic will be one of the first playable AA+ releases, and our three-hour demo has already been gaining rave reviews and will be available for limited beta play in the coming months.
"I've never seen anything quite like this, and I love the direction it's taking." Holly S.
Why Blockchain?
Players are connected in the Metaverse, able to share content with each other, interact, and even influence the development of the game by becoming members of the player Council, voting on development decisions, providing direction, and partaking in the success of the community as a whole.
Unfortunately, most gaming companies build closed worlds without real digital items, which means:
Players can only rent short-term entertainment value
Players cannot be adequately rewarded for their activities
Players cannot build long-term, scalable businesses
Players hold no rights to speak in the game or influence the game's future
The stories in the games don't allow for choice; players MUST do whatever the developers decide
We don't like any of that.
"We HAVE to build this universe together with our players. This is the future of gaming." Erkan Bayol — Metaverse Game Studios, CEO
With a strong vision in mind to make this a truly collaborative gaming experience, our team has built the game with player control and even player ownership in mind. This means finding the right blockchain ecosystem to build on in a way that allows for a Player First mentality, infinite scalability, and social/eco responsibility.
We've decided to build on the Solana blockchain because it fits all of our requirements; not only is it incredibly stable and growing, it's eco-friendly, and the community of developers around it means as the Metaverse grows, so will Angelic, as will the value we bring our players.
This all allows Angelic to feature a collaborative development between the developers and you, our fans. United we build and expand this universe to be unlike anything that has come before.
Backed and powered by the blockchain, you can create cosmetic items, ships, and hero NFTs to use in the game or trade with fellow players and collectors. Better yet, thanks to our DAO mechanism, our community will have significant governance over the game AND the IP as it expands to suit the vision of the most important stakeholders, the players.
Have fun, play how you want, enjoy the benefits of the community, and own the future of gaming.
Speaking of IP — What's the Angelic Universe All About?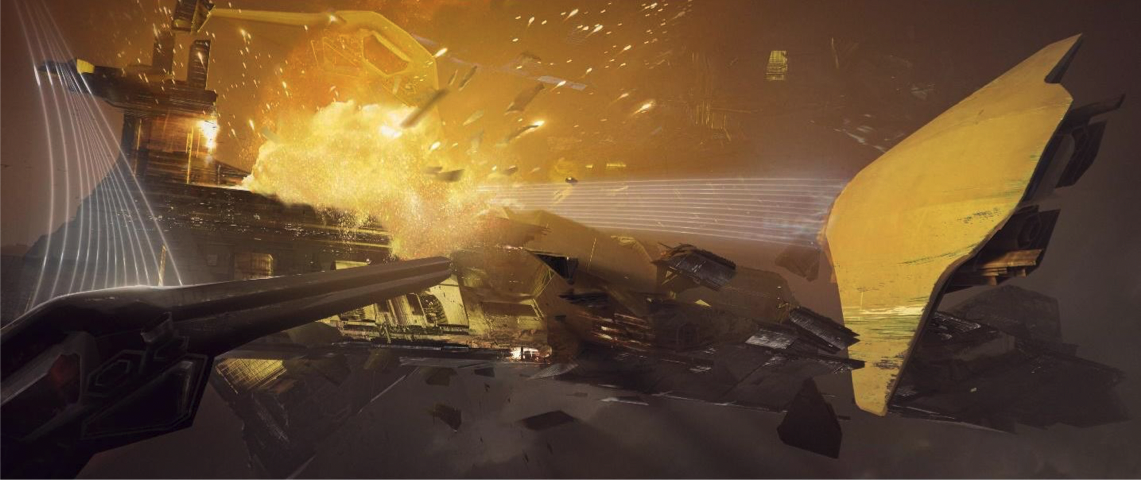 In the 28th century, 200 years after the interhuman war between the corporations and neo-humans, long-forgotten "angels" returned from deep space. Those same corporations have dominated the Earth unopposed for centuries and are now dealing with a fungal plague absorbing and destroying their deep-space colonies, and the return of neo-humans sends the corporations over the edge and chaos ensues.
You are one of those neo-humans.
As you adventure, you'll uncover the deep history of your kind and of the human race. You'll learn about Iset the Mother, your creator, redeemer, and companion. You'll find potential allies with their own unique agendas, motivations, desires, and abilities. Form alliances, forge a team, and leave YOUR mark on the universe.
Explore and expand this universe with our community. Join the Council and own your experience.
We've Already Hit the Launch Button
You don't have to wait a decade for this vision to come to life. Our team has been hard at work developing the game, universe, lore, and blockchain technology required for Angelic to have long-term staying power.
The Angelic team is an indie game company based in Florida, US, and led by industry veterans whose games have been enjoyed by more than 100 million players and acquired by industry giants such as Ubisoft, Microsoft, Mail.ru, and Peak Games.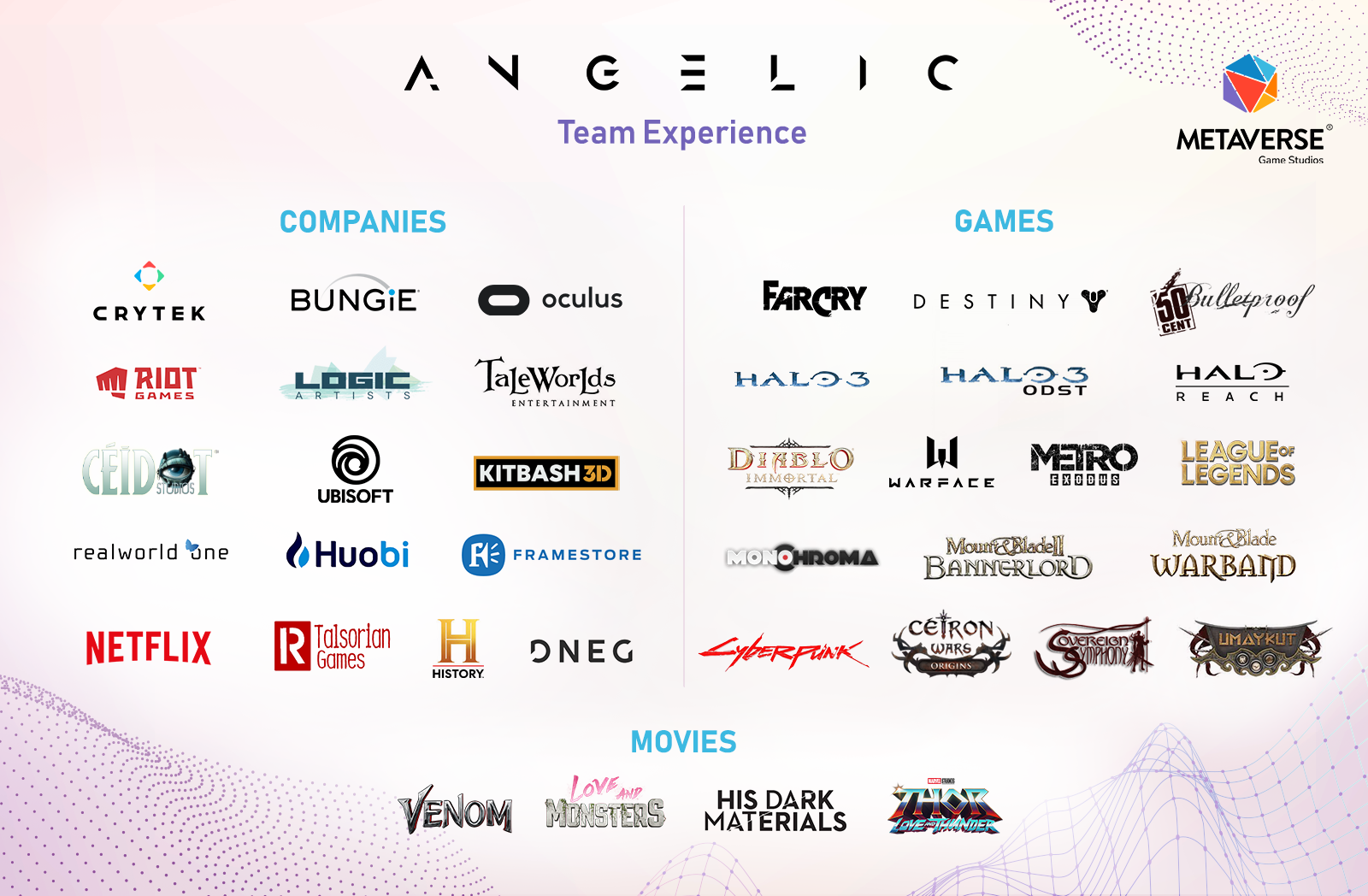 You can read more about the team in our whitepaper, but to illustrate our commitment to the game and the community, our team has agreed to an unheard of five-year vesting schedule with a two-year cliff! We're not here to hype something we don't believe in; we're in this for the long haul with you and for you.
Join us.
So What Is Next?
Angelic plans to release our first vertical slice in early 2022 which allows players to experience new content, track progress, and provide feedback in both single player and multiplayer mode. Players can start crafting their star bases, forming fleets, and designing heroes for playing (or trading) purposes.
Additionally in early 2022 we will be offering private rounds and a public sale for early adopters, followed by a special NFT sale and distribution known as "The Founders Series" which will include rare and exclusive drops for collectors, players, and investors thanks to their utility and functionality within the game.
Further NFT sales will be on offer throughout the year with new and unique items, heroes, and ships!
Token holders will also have access to exclusive playable builds and will be eligible to participate in the "Council of Angels," (CoA) our DAO mechanism that allows the players to impact the game and its direction.
A public token offering will be available as well for players who want to get in on the ground floor. A limited number of beta test keys will be offered to certain early action takers, and your feedback will be crucial to the future development of the game.
We know we have a long journey ahead of us as we build this together. Beyond building a gaming experience like no other, we have a strong focus on creating an ecosystem that rewards players and community members who help the game succeed. We know this won't happen overnight, and we invite you to join us as early adopters who will become active members of the Angelic community, get involved in providing insight and feedback, and who are excited to share in the success of the most exciting Metaverse gaming project to date.