Join the Ranks of the Angels!
Angelic combines turn-based strategy combat with a narrative RPG, all backed by a collaboratively crafting science-fiction setting thanks to blockchain technology. Get ready to shape a massive conflict in the dark and compelling universe of Angelic.
It will not be an easy journey, and each action will have deep echoing repercussions. But don't worry, you won't have to do it alone.
Let's Build this Universe Together!
Angelic features a collaborative development between the developers and the fans: United, we expand the universe.
Backed by the blockchain, you can create cosmetic items, ships, and even hero NFTs to use or trade them. Thanks to our DAO mechanism, our community will also have significant governance over the game and IP.
Survive in an Unforgiving Universe!
You are no longer a human. You have transcended and are now known as Phoenix, a unique neo-human prototype. You were engineered by Iset the Mother herself, who is a goddess and your redeemer, and also your companion.
You will meet other companions on your adventure. These potential allies might have different abilities, agendas, motivations, and desires.
If you can gain their respect and trust, however, you will assemble a fearsome force.
Enter the Angelic Metaverse!
Play the base game and enjoy the narrative, join the multiplayer mode, participate in colony wars, forge alliances, fight co-op missions, or optionally create and trade your NFTs and stake Angelverse tokens to gain governance rights. Angelic will also be a multiplatform game, so a massive community will be waiting for you to play and trade.
The options are limitless. It is up to you how to participate and enjoy.
FIND OUT MORE ABOUT THE ANGELIC UNIVERSE
View detailed information about each hero, examine ships and vehicles, explore NFT skins, and more.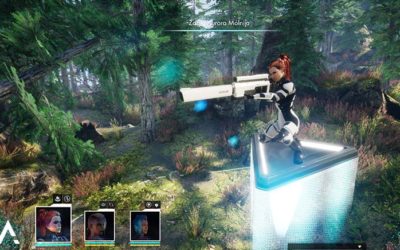 By now you've been hearing the hype about Angelic, but the question is, what exactly is the game? The short answer is: Angelic is a narrative...